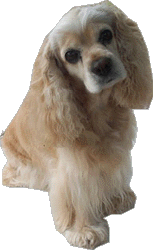 Happy Birthday to our beautiful princess!
Your family wishes you a happy day!
Maggie, I wish you the best in this very special day!
You are sunshine of my life, you make everyday
brighter just by being with us
I love you more than words can tell!
Your Auntie Sofi

Below are messages and cards sent for Maggie on her Bday!
If you want to send Maggie a card or wish, please email to:
maggiebday@hotmail.com
Thank You!

Happy 7th Birthday Pretty Lady.
Hope you have a great day.
We will be out of town on your Birthday,
so wanted to make sure you knew we were thinking of you.
Hugs and Kisses, June (Daisy's Mom) & Murphy the Cat

From Elmo and Barkley at OCC!




Dear Maggie
We wish you all the best for your birthday! May you be spoiled rotten with lots of gifts and treats :)
Hugs Yvonne, Luna&Stella



Have an extra special birthday
because you share your day with me! Gracie



Happy Birthday Maggie
Santana wishes Maggie the best birthday ever
Have a great day, lots of treats, long walk, and extra hugs.
Singing Happy Birthday wouldn't hurt.